Diana Swidler, President.
Diana Swidler holds a Bachelor of Arts in Business Administration from the University of Wales; a Masters in Europe Union and European Law from the Royal Institute of European Studies in Spain and a Masters in International Trade from the Ministry of Industry, Energy and Tourism of Spain. During her studies, Diana traveled very often to the European Union Institutions in Bruxelles and Luxemburg, and worked at the Spanish Embassy in Romania. Since a young age, Diana, has had a deep passion for travelling and learning about other cultures.  This passion drove her to learn several languages while she attended High School and University (so she knows firsthand how difficult is to learn a language!). While working at the Spanish Embassy, Diana was inspired by how easily the young children of diplomats learned the local language.  Unlike adults, who must dedicate a significant amount of study to learn a foreign language, Diana was in awe watching young children who, without studying and with seemingly little effort, leaned new languages simply by being exposed to the languages while their parents worked in the diplomatic world. Later on, in United States, she become a substitute teacher at the Escuela de Español Cervantes for bilingual children, in Bryn Mawr, PA; where she observed that bilingual children refused to speak their heritage language due to being immersed in an English environment.  Diana realized that for a child to truly learn Spanish, it is extremely important to expose him to an environment where he can learn about his cultural roots with his peers, and in which he is encouraged to develop social skills in his heritage language. So, when her first child was born, Diana decided to create a bilingual community where bilingual children like hers would feel proud about their heritage language and cultural heritage. She started the program ¨Spanish for Toddlers¨ in Collingswood, NJ, completely free; to expose children as young as 6 months to Spanish and to raise community awareness about the benefits of learning a second language.
---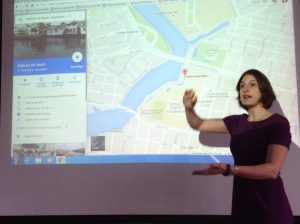 Dana M. Pilla, M.A, Ed.M, Vice President
Dana M. Pilla (@dpilla) is the FLENJ 2015 Teacher of the Year. Dana is a Middle School Spanish teacher in Haddonfield, NJ and a lecturer at Rutgers University – Camden. She holds both an M.A. in Spanish, option in translation, and an Ed.M. in Language Education, from Rutgers University, New Brunswick, as well as a B.A. in Spanish from Douglass College. She has taught Spanish from 2nd grade through university over the past 16 years, and is also a certified teacher of ESL.  Dana has participated in a multiyear FLAP grant, helping in the creation of model assessments and rubrics (found under CAPS on flenj.org), and has worked on the NJ DOE model curriculum writing team under the direction of the state supervisor of World Languages, creating curriculum framework and assessments at the novice level. Dana frequently presents on a variety of topics relating to curriculum, assessment and collaboration through technology in World Languages, at local, state and regional conferences. Dana has also developed, and is currently implementing, on-line proficiency-based elementary Spanish courses for Rutgers University Camden.  She lives in Cherry Hill with her husband, Luis, and 2 daughters.  Luis and Dana are raising their children bilingual.
---
Julie Schneider, Officer
Julie Schneider (@sraschneid) graduated from York College in December of 2001 with a major in Humanities and minors in English and Spanish. In addition to her four years' teaching experience in Spain, she has over ten years experience teaching in the United States. In her four years in Madrid, Julie taught English to pupils of every age–ranging from young children to government workers in the Ministry of Agriculture. Her experience in the US spans elementary, middle and high school Spanish teaching. She has traveled extensively, both in Spanish-speaking countries and Asia. After meeting and getting married in Madrid, she and her husband made a stop in her husband's native Colombia before making South Jersey their home. While teaching Spanish at Holy Cross High School in Delran, NJ, she earned her Master's Degree and teaching certification from St. Joseph's University. Currently, Julie teaches Spanish at Cherry Hill West where she also is involved in curriculum writing. Julie believes in the power of language to strengthen both cognitive skills and character. Julie, who resides in Collingswood, is committed to raising her children to embrace the Spanish language as part of their heritage.
---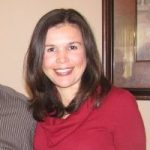 Laura Thummel, Officer
Laura Ortiz Thummel  graduated from Coahuila University (México) in June of 1998 with a major in Computer System Engineering. Laura worked in Altos Hornos de México as a Training Coordinator for the SAP Implementation project for two years. At the completion of her assingment she decided to come to the United States to learn English as a second language. In July 2000 she joined the Aupair Care/exchange student program in South Jersey. Laura taught Spanish to her host family kids at the same time she was learning the American traditions.  In 2005 Laura started working for Accenture Technology Solution as a Customer Support Representative for DuPont in Wilmington, Delaware. This role was an opportunity to support users worldwide and interact particularly with those from Spain and Latin America with whom she speaks her native language. In 2013, Laura became a team leader for Access Management Team for Chemours. She was responsible for creating internal processes and for training the offshore team.  Laura has organized events such Hispanic month celebration, 5 de Mayo, La Posada (Mexican Christmas celebration) and México spotlight in which her coworkers  enjoyed  learning about the Mexican culture, traditions and food.  Laura and her husband Greg  are raising their 5 year old boy bilingually, and they are very proud to be part of the Bilingual Families of South Jersey.