Diana Swidler, President.
Diana Swidler holds a Bachelor of Arts in Business Administration from the University of Wales; a Masters in Europe Union and European Law from the Royal Institute of European Studies in Spain and a Masters in International Trade from the Ministry of Industry, Energy and Tourism of Spain. During her studies, Diana traveled very often to the European Union Institutions in Bruxelles and Luxemburg, and worked at the Spanish Embassy in Romania. Since a young age, Diana, has had a deep passion for travelling and learning about other cultures.  This passion drove her to learn several languages while she attended High School and University (so she knows firsthand how difficult is to learn a language!). While working at the Spanish Embassy, Diana was inspired by how easily the young children of diplomats learned the local language.  Unlike adults, who must dedicate a significant amount of study to learn a foreign language, Diana was in awe watching young children who, without studying and with seemingly little effort, leaned new languages simply by being exposed to the languages while their parents worked in the diplomatic world. Later on, in United States, she become a substitute teacher at the Escuela de Español Cervantes for bilingual children, in Bryn Mawr, PA; where she observed that bilingual children refused to speak their heritage language due to being immersed in an English environment.  Diana realized that for a child to truly learn Spanish, it is extremely important to expose him to an environment where he can learn about his cultural roots with his peers, and in which he is encouraged to develop social skills in his heritage language. So, when her first child was born, Diana decided to create a bilingual community where bilingual children like hers would feel proud about their heritage language and cultural heritage. She started the program ¨Spanish for Toddlers¨ in Collingswood, NJ, completely free; to expose children as young as 6 months to Spanish and to raise community awareness about the benefits of learning a second language.
---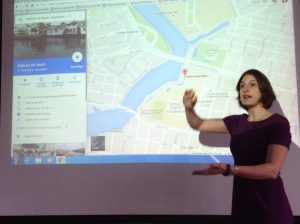 Dana M. Pilla, M.A, Ed.M, Vice President
Dana M. Pilla (@dpilla) is the FLENJ 2015 Teacher of the Year. Dana is a Middle School Spanish teacher in Haddonfield, NJ and a lecturer at Rutgers University – Camden. She holds both an M.A. in Spanish, option in translation, and an Ed.M. in Language Education, from Rutgers University, New Brunswick, as well as a B.A. in Spanish from Douglass College. She has taught Spanish from 2nd grade through university over the past 16 years, and is also a certified teacher of ESL.  Dana has participated in a multiyear FLAP grant, helping in the creation of model assessments and rubrics (found under CAPS on flenj.org), and has worked on the NJ DOE model curriculum writing team under the direction of the state supervisor of World Languages, creating curriculum framework and assessments at the novice level. Dana frequently presents on a variety of topics relating to curriculum, assessment and collaboration through technology in World Languages, at local, state and regional conferences. Dana has also developed, and is currently implementing, on-line proficiency-based elementary Spanish courses for Rutgers University Camden.  She lives in Cherry Hill with her husband, Luis, and 2 daughters.  Luis and Dana are raising their children bilingual.
---
Kourtney de la Cruz, Administrator Officer
Kourtney de la Cruz graduated from The College of New Jersey in May 2008 with a degree in Elementary Education and Spanish.  Immediately following graduation, Kourtney spent a year serving in Ensenada, Mexico with the Christian and Missionary Alliance (La Alianza) supporting children's ministries at local churches and facilitating cultural and faith exchanges between the Mexican and American churches.  After her service in Mexico, Kourtney then moved to Copan Ruinas, Honduras to work with UrabnPromise Honduras (UPH), a faith-based youth development organization.  Through her time with UPH (2009, 2011-2014), Kourtney served as an camp and afterschool program director for children grades K-6, providing academic support to students, working closely with the local schools and families.  Since moving back to the US in 2014 with her husband, a proud Poblano, Kourtney has served as the Board Chair for UrbanPromise Honduras and has worked with UrbanPromise Ministries in Camden, NJ.  She is thrilled to have found Bilingual Families of South Jersey and to have a community around her family that supports her husband and her efforts to raise their children speaking Spanish and understanding what it means to live between and in two cultures.
---