We follow a standards-based and proficiency based curriculum for all of our learners. Class is 45 minutes long and are instructed 90%+ in Spanish.  Parents are asked to participate in the lesson with their children.
Classes will take place every Saturday at Lutheran Church of Our Savior (204 Wayne Ave, Haddonfield, NJ 08033) starting February 8th, 2020.  Please refer to our calendar here for more information.
In order to maintain our teaching standards, we keep the class limited to 10-12 children for all our classes.  The class will be filled out according to the families who sign up first our registration form.  
Interested in our program? Join our waiting list for next semester! We will contact you as soon as we open the registration and we will keep your place on the list.
CLASSES 2019-2020
Infant & Toddler Spanish: 1-4 years old (babies and toddlers who are not yet in school).  Class starts at 9:20 am and lasts 45 minutes.  We teach them Spanish through songs, stories, rhythms and games so we keep our little ones moving and entertained while we get them used to the new language sounds.
Pre-school & Kindergarten Spanish 2: 4-6 years old (children in Pre-K or Kindergarten with pre-reading or early reading skills). Class starts at 10:15 am. We include arts and crafts to develop their motor skills in Spanish
Elementary Spanish 1: 6-10 years old or in grades 1st-5th. Class starts at 11:15 am. We reinforce their listening and speaking skills while we introduce reading and writing in Spanish.
---
PRICES FOR SEMESTER 2019-2020
Full price for spring 2020 semester : $200. That is only $13/class!!
Drop in: $15/class. Currently not available. 
$30 discount for second child / $90 discount for third child
Price for the first child is $200
First and second children are $370
First, second and third children are $510
First, second, third and fourth children are $650
---
WHAT WILL YOUR CHILD LEARN WITH US
Our class is instructed by a certified teacher that has experience with Early Childhood Education.  The class will be conducted completely in Spanish so students in the class will get extensive "input".  They will be following instructions, hearing stories, singing, and doing actions and sometimes crafts. Most importantly they will be hearing Spanish and seeing images to help them understand.  Our curriculum goes with the seasons and we expand themes for each one.  For the first semester we went over topics like greetings, body parts, verbs for movement, clothing, weather, etc.  We learned several songs and some mindfulness techniques as well that are instructed in Spanish.  We are continuing with themes that go with the seasons and will continuously use what we learned last semester and build on that.  This semester we will teach the same way but incorporate new themes like animals, family, additional verbs for movement and seasonal activities.  Everything that is taught is done so with comprehensible input so children are learning beyond just our explicit objectives.  We are very proud of our program and the service we are giving to the community.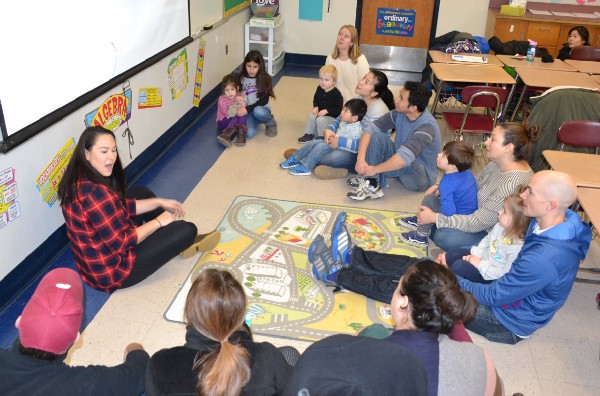 We will be following the Model Curriculum for World Languages by the NJ Department of Education:
These are novice mid K-5 units for learners of Spanish as a second language:
Unit 1 – All About Me
Unit 2 – School Days
Unit 3 – Home, Sweet, Home
Unit 4 – Food, Glorious Food
Unit 5 – Celebrations!
Unit 6 – Migratory Animals
Unit 7 – Going Green