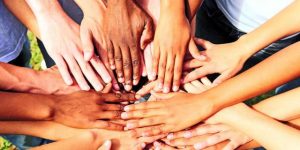 Bilingual Families of SJ is not only a place for learning, but it is also a community gathering place for bilingual families with a mission: To preserve their heritage language and culture and make it available for anyone who wants to learn it. Bilingual families struggle on a daily basis to keep their language and culture alive at home so we want to offer a community where all of us can find the support we need. We come from a wide array of nationalities; Mexico, Dominican Republic, Puerto Rico, Ecuador, Bolivia, Spain, Argentina, Norway…and we aim to include as many nationalities as possible!
Do you speak Spanish at home but your children answer you back in English? Do they not show interest in speaking your heritage language? Do you struggle trying to pass on your heritage language and culture to your children?
We are here to help you! We are a community of bilingual families in the area of South Jersey who have join strengths with the same purpose: Create a bilingual environment where our children can develop social skills in Spanish.
The most important part of the language is "Communication." For this reason it is so important to nurture a bilingual environment where our children are encouraged to speak Spanish.
But our commitment goes further. We want to extent our efforts to all the families interested in second language acquisition. To be exposed to a second language brings an amazing set of advantages you don't want your children to miss. If your children speak another language, they can have not only better professional opportunities in the future, but better cognitive skills, better global understanding and better health. We offer the class "Spanish as a second language," in which children are exposed to a second language for the first time and we organize different events during the year so all the families, bilingual and not bilingual, can celebrate cultural diversity together.
Classes
We currently offer the following classes:
Classes for Spanish as a second language:
Infant & Toddler Spanish: 1-4 years old. Class starts at 9:20 am
Pre-school & Kindergarten Spanish 2: 4-6 years old (preschool). Class starts at 10:15 am
Elementary Spanish 1: 6-10 years old. Class starts at 11:15 am
Classes for bilingual and heritage speakers of Spanish
0 to 5 years old (co-op style).Class starts at 10:15 am
Kindergarten & 1st Grade (with a professional teacher). Class starts at 10:15 am
2nd to 5th Grade (with a professional teacher). Class starts at 11:15 am
Kindergarten to 5th Grade (co-op style). Class starts at 11:15 am
All parents are encouraged to participate in the school classes and activities.
Do you speak another language? Are you interested in creating your own language community? We can help you. Please contact us at info@bilingualfamiliesofsj.org
Educate the Community
Bilingual Families of SJ, aims to educate the general public about the importance and benefits of learning a second language and culture and, educating minorities about the importance of keeping their minority language and culture alive. For that purpose, we educate through our social media and we offer presentations, forums, panels and lectures, for anyone who is interested to know more about minority cultures.
Are you interested in collaborating with us? Please contact us at info@bilingualfamiliesofsj.org
Why learn a second language? Because …
It enhances Cognitive Skills
Students can develop greater cognitive flexibility, demonstrating increased attention control, better memory and superior problem-solving skills, as well as an enhanced understanding of their first language.Cognitive Video  Recent News article
It increases Cultural Sensitivity
Immersion students are much more aware of and show a more positive attitude towards different cultures and an appreciation of people who have different cultural perspectives and practices.  A survey of top international business executives done by the Center for Applied Second Language Studies at the University of Oregon in 2007 showed that multinational businesses are looking for potential high-level employees with cultural sensitivities and the skill to perform in a foreign environment. "What really counts for multinational businesses is employees' ability to effectively communicate in a variety of cultures and contexts. Bilingual employees are valuable, not only for their language skills, but also for their ability to interact effectively with people around the world in either their first or second language."
It gives Long-Term Benefits.  Students are better prepared for the global community and job markets where world language skills provide them with an economic advantage.  According to a Bloomberg study of most important languages for international business, Mandarin Chinese ranks first after English and Spanish ranks fourth.